Minutes of the Monthly Meeting held on April 09, 2018, at Committee Room #2 City Hall.
Present:
Thomas S. Saras
Neel Nanda
Maria Saras-Voutsinas
Rosemary Sadler
Ricky Castellvi
Daniela Spirlac
Jacques Varberian
Jim Pappas
Jonathan Annobil
Surry Li
KumayanThambi
Mohammad Bagher-Samimi
Marek J.D. Goldyn
Leila Monteiro Lins
Mohammad Tajdolati
Norman Hart
Sandie De Freitas
TeshomeWoldeamanuel
IshkhanGhazierian
Neel Nanda
Isa Melo
Yuri Natchetoi
NajibullahPopalzai
Raffi Der Boghossian
Robin Beckosian
Khalid Magnam
Inga Cernei
S. Vashnalingam
HannanMamun
NobodipNews
AysegulKalkan
ErsoyKalkan
Nishanta Don
Ali Mahboub
MulugetaZergaba
Ranjit Wicks
SrimalAbeyewardene
Janusz Niemczyk
Denis Brito
Michael Shiavand
John Saraidaris
Kirubjk Ravi
Kathy Lin
Hai-Tien Lin
LonganLongendirlyan
Stensont A
Anna Nieuinos
Naearajh V. Bangaloris
GeethaNangarajh
Mila Astorga Garcia
Hermie Garcia
Syed Irbal
PooyanTabatabaei
Dimitris Vohaitis
Yuri Natchetoi
Mike Kolosowski
Khalid Magram
Euginea Bakchinow
Boddy Wang
AnastasiosChatzitheofanous
Muhacumad NaeemUl Islam
Agenda of the day:
Welcome Remarks by the chair.

Minutes of the previous meeting

Roundtable Discussions with Mayor John Tory.

New Members/New Business

Adjournment
Welcome Remarks by the Chair:
Dr. Tajdolati chaired the meeting and declared the meeting open. Arif Ahmed moved a motion to approve the agenda. Jonathan Annobil seconded it. The motion was carried.
Minutes of the previous meeting:
Jonathan Annobil moved a motion to approve the minutes of the previous monthly meeting Khalid Magram seconded it.  The motion was carried.
President's Report/Discussions: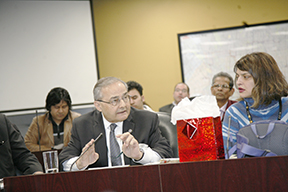 President Thomas Saras mentioned that the Government has allocated $50 million dollar for Government direct financial support to publications for 5 years or $ 10 million dollars per year, out of which 20% would be distributed to Ethnic Media. He encouraged all members to apply for funds under the Canada Periodical Fund and other such programs by Federal Government. President Thomas Saras would meet the officials of the department of Canadian Heritage on April 25 to discuss distribution of advertising in ethnic media.

President Thomas Saras suggested that on Friday May 4 NEPMCC celebrate UN designated day for PRESS FREEDOM DAY, taking this opportunity the NEPMCC is organizing a special event celebrating this day at the rotunda of City Hall. With this opportunity of the  Special celebration for this very important day the administration will  invite guests from all the political establishments and the media organization of the province and the country. Speeches and live music will help to celebrate the day as more than 700 journalists around the world are enclosed in various jails. This year NEPMCC is hosting the event along with Canadian NewsMedia Council (NNC).  At the end of the speeches the NEPMCC will offer a special reception with drinks and food, as the previous years.

Motion : During the event food and wine would be served courtesy of the NEPMCC and the care of the office of the President of NEPMCC. A motion in this regard was moved by Kazak and was seconded by Jonathan Annobil for the covering of the expenses by the NEPMCC, which was unanimously carried.

President Thomas Saras reminded the members to renew their membership this year in order to enjoy the benefits and privileges of being a member of NEPMCC. He expressed disappointed that only a portion of members have renewed their membership.

President Thomas Saras met with the Special Agency on Government advertising of the province of Ontario. The Agency will contact a research in order to decide how many publications will be receive government advertisements depending on the circulation of the publication. The President also appeared several times to Parliamentary committees responsible for federal advertising of Canada in order to lobby them for the need of financial support of the members of the ethnic press of Canada. There is an ongoing dialogue to increase government advertising in ethnic media.

President Thomas Saras, encouraged the members to submit their website to the Digital Publishing Platform which are not yet participating in the project. Thomas Saras informed that a professional marketing company was hired in order to promote the mass web site of the organization.
President Thomas Saras would send an editorial about increasing Government Advertising in Ethnic Media. Members could publish the editorial in their respective publications.

Motion : There was a motion in the table that this year members should contribute towards Canada Day celebration by buying tickets. Mareck Goldyn, moved the motion and Isa Melo seconded it.  The Motion was carried unanimously. Michael Homsi, Inga Cernei and other members volunteered to form a committee for the preparation of Canada Day Celebrations. Members interested in participating in the committee should be in touch with Maria Saras- Voutsinas.

Motion: President Thomas Saras suggested that NEPMC produce special medals this year. The motion was moved by Mohammad Samimi and seconded by Michael Homsi. The motion was unanimously carried.

He suggested also that art works from the multi-cultural communities which the NEPMCC represents could be displayed during the week of October 21 to October 28, 2018 at the Rotunda of the Toronto City Hall. He called the members to bring this event to the attention of their community and the people of the arts.
 Roundtable Discussions with Mayor John Tory.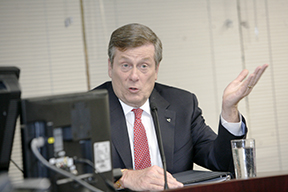 Mayor John Tory thanked NEPMCC for inviting him to the monthly meeting held by NEPMCC. He praised the work of Councillor Jim Karygiannis, who was also present in the meeting for being an immigrants and newcomer's advocate.
During a roundtable with the National Ethnic Press and Media Council of Canada, Mayor Tory outlined how the 2018 operating and capital budget makes investments in the priorities of Toronto residents while keeping the city affordable.  Over the last four years, Mayor Tory has led City Council in approving four budgets that invest in building transit, fighting traffic and keeping Toronto affordable.
"This year's budget is based on the belief that we can invest wisely and compassionately, improving life in the city while also operating within our means, "said Mayor John Tory.  "We are keeping taxes low while significantly investing in the areas that will have a real, positive impact on our residents' lives."
The 2018 budget contains over $ 50 million in new and enhanced investments. Toronto residents will see the following items in this year's budget:

For the fourth year in a row, property taxes will be kept at or below the rate of inflation.

A TTC fare freeze for our city's millions of daily transit riders.

Investing more than $3 million in the TTC to help address crowding immediately.

Funding for social housing repairs will continue and no Toronto Community housing units will be permanently closed.

More police officers will be hired and deployed with a focus on community safety.

For the second year in a row, the police budget will be flat lined, something that had not been achieved before Mayor Tory's time in office.

1,000 additional shelter beds that will open as soon as possible.

$170 million in additional gas tax money secured from the province by Mayor Tory will begin to be factored into the city's capital budget.

Time-based transfers for the TTC which will allow people to hop on and off transit without having to pay again and again.

Increases to the poverty reduction strategy, including implementing a fair fare pass to help those in our city who can't necessarily afford to ride the TTC.

Increased investments in childcare that would see the creation of 1,515 permanent new subsidies.

Investments in additional traffic measures aimed at fighting congestion including permanent funding for Quick Clear Squads and traffic wardens along with funding for smart, traffic- moving technology.

Full funding for the City's TransformTO plan to help us invest in a strong and resilient city.
During the roundtable discussions with Mayor John Tory Mareck Goldyn, Onid, Arif Ahmed, Maria, Khalid Magram, Isa Melo and other members asked a wide variety of questions which were candidly answered by the Mayor.
Presentation by-Commffest- Norman Hart and Sandy de Freitas
The 2018 COMMFFEST will celebrate 13 years from October 10-16 screening in movie theatres and exhibition spaces, presented yearly by a group of dedicated volunteers. COMMFFEST is a film and arts festival that presents a broad range of local and international films representing current affairs and relevant issues that affect our society. COMMFFEST provides opportunities for emerging filmmakers, artists, musicians and global community stakeholders to express themselves freely and to connect with audiences on a more personal level. Members of NEPMCC were encouraged to participate submit videos representing and benefitting their community.
New Members/ New Business:
Maria Saras-Voutsinas informed the members about "Mind the gap": How 'ethnic' & 'mainstream' Canadian media can collaborate a one day seminar hosted by the Canadian Association of Journalists on April 20 at Story Arts Centre, Centennial College, 951 Carlow Avenue. As the journalism industry endures constant changes, niche publications can get lost in the shuffle. The event will discuss how some members of the ethnic press have handled their own evolution—and what lessons the mainstream media can learn.
Speakers include: Maria Saras-Voutsinas, Executive Director and Senior VP Public Relations of the  National Ethnic Press and Media Council of Canada; Moses A. Mawa, President and CEO of Silvertrust Communications; Dr. Shahram Tabe, Founder of the Diaspora Film Festival; Logan Logendralingam, Chief Editor at Canada Uthayan; Jurij Roman Klufas, President of Kontakt and Steven Zhou, award-winning freelance writer.
Moderator: Camille Dundas, Co-Founder and Editor of ByBlacks.com
Waterfront Magazine will be celebrating 15 years by honouring 15 women in the Global Mail centre www.waterfrontawards.ca.
The Waterfront Awards celebrates women through different mediums including film and television, dance, art, music, photography and theatre. This spectacular event will be held on April 27th, 2018. This is the second annual event on the International Women's Day in support of Abuse Hurts, which is a national charitable organization since 1993
Adjournment: Jonathan Annobil moved a motion to adjourn the meeting and Khalid Magram seconded it. The motion was carried. The Chair, Dr.Tajdolati adjourned the meeting at 9 pm. The next monthly meeting would take place on Monday, May 14, 2018 at the City Hall.