Minister of Consumer Services
The Honourable Sophia Aggelonitis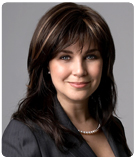 Sophia Aggelonitis was first elected to the Ontario Legislature to represent the people of Hamilton Mountain in October, 2007. Currently, she is the Minister of Consumer Services. In addition, Sophia is a member of the Legislation and Regulations Committee, the Economic, Environmental and Resources Policy Committee, the Treasury Board Working Group and was appointed by the Premier as the Chair of the Restaurant and Hospitality Caucus.

A successful small business owner, dedicated community volunteer and proud Hamiltonian, Sophia's career has centred on strengthening community through business. Combining these two passions, Sophia served on the Hamilton Chamber of Commerce for four years before being elected president in 2007. In addition to being an active member of the Hamilton AM Rotary Club, Sophia has been involved in a variety of community organizations, serving on the boards of Theatre Aquarius, Canadian Club of Hamilton, Phoenix Place and the Dr. Bob Kemp Hospice fundraising committee.

The daughter of Greek immigrants, Sophia was raised in Welland and has been a proud resident of Hamilton since 1994.