Transit, Youth Issues and Accountability Grabbed Mayoral Aspirants' Attention at NEPMCC Panel Debate

By William Doyle-Marshall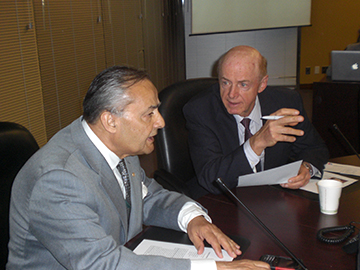 Transit was the main topic talked about during last Monday's debate among mayoral candidates hosted by the National Ethnic Press and Media Council of Canada. During question time the aspiring mayors spoke casually about issues like accountability, carding (racial profiling); docking councilors' pay if they were not on the job; appointing a transportation czar to deal with congestion on the roads; need for attitudinal change at City Hall; exorcising the ghost of Rob Ford from City Hall; appointing a fiscal watch dog; LGBTQ support and expansion of the Toronto Airport.

John Tory said he fully accepted the role members of the National Ethnic Press and Media Council of Canada plays in bringing people together to connect in the city. His association with the council over the years has made him realize how important a lot of these media outlets and publications are making sure the people of diversity in the city knit together. "This is a very important election and it is about the future of Toronto and taking the city and making it has a better future," Torn noted. He stressed that he has been talking about Toronto's future in the context of trying to make sure that it improves on its lot and it's livable, affordable and functional.
Morgan Baskin, the youngest candidate said she was involved in the process because she wants youth issues to be addressed. "We need to do better," she pleaded. She was disturbed that none of the candidates were discussing youth issues. "I would not be here if youth issues were being included in the conversation. I would be supporting another candidate," Baskin emphasized.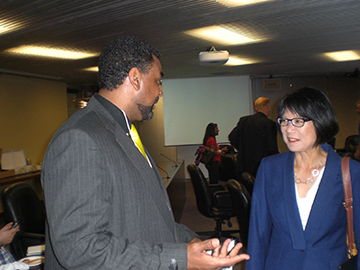 Confessing that there are many valuable contenders for Mayor, but she regretted none of them are discussing youth issues to the extent or in ways that make youth feel heard or appreciated. She has three main themes that are incredibly important to youth living in the city. Making better use of technology to make the lives of the people living in Toronto better;' we need to do better at using technology in ways that are useful to marginalized communities, including young people but also people with disabilities and people who experience language barriers. We need to do a better job at taking care of our green space. We have lost a significant portion of our tree canopy in an ice storm this winter and we need to replace it, not only because our green space is important to the people who live here but also because that green space, including our tree canopy helps our lower our heating and cooling costs for all of the people who live here"
Olivia Chow, the former MP for Trinity Spadina is determined to make this city better. She informed the media gathering that she brings the immigrant experience to the debate as her family has lived it. The struggles her family faced while starting out in low income high rise residence from the bottom of city life were outlined to the gathering by the former municipal politician who ultimately became a member of the House of Commons from which she recently resigned to enter the mayoral race. "It was hard learning a new language, struggling to fit in, struggling to find work and starting right from the bottom. It was tough so I know what every nickel is worth and I know how important each can be. I know what half of the residents of Toronto either have gone through or are going through," Olivia Chow continued.
Chow confessed that she has grown to love the city and that is responsible for her determination to make it even better. Her experience as a school trustee, a city councilor and as a member of parliament has prepared her for the job she is aspiring to capture later this year. "I know how to get results like getting 911 speaking 140 languages. Children and families are the heart of our city and they have always been my top priority and will be again," Chow implored. She identified the creation of after school activities for young people (children) to keep them out of trouble so they would also grow up smart and strong.
Dewitt Lee who described the City of Toronto as a place designed to help the dreamers was concerned that too main resources are being pulled away. He wants to see more compassion and advantage should be taken of the digital resources that exist in and around the city. He recognized what he termed "a great divide" which could be closed through unity and the promotion of real diversity. Lee was disturbed that hope for a better tomorrow has been sapped out of City Hall.
David Soknacki, former budget chief for the city identified LRT for Scarborough, reviewing police and emergency services budget and keeping a lid on taxes as the main planks of his platform.
Karen Stintz, Chair of the Toronto Transit Commission boasted about her role in supporting Rob Ford during the first two years as Mayor. But she abandoned him after that due to his public spectacle that embarrassed everyone. She traded challenges with Olivia Chow and John Tory about having the ability to work with other politicians in a bid to make the City of Toronto productive and measure up to the claim of "world class". Stintz boasted she is the only candidate with 11-years' experience as a municipal politician. And she was proud that the city has a fully funded transit plan that simply has to be implemented.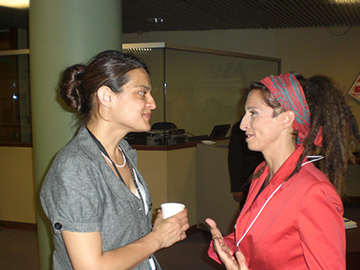 Sarah Thomson who chairs the Transit Alliance is determined to collect tolls from all those who live in the 905 communities. She identified tolls as the only way to pay for her $25 billion transit plan. She called on Toronto politicians to be responsible and stop flip flopping over the city's transit needs. She called for LRT and subways to come together and make things happen today.
John Tory's take on transit was simple. The time for talk is over. He wants action on transit and public transportation. He frowned on the fact that 20% of the youth population as unemployed and he talked about his desire to change that.
Michael Nicula promised Torontonians free rides on the Toronto Transit system for three years in a bid to boost ridership. Boasting about his educational credentials in accounting Nicula promised to bring competency to the city. He promised no tax increases but he has a plan to save the city $5 billion.
Erwin Sniedzins creator of the patented "Complete Real Time Self Learning Intelligent educational software system told the audience he brought a $22 billion platform that would cover underground transit system and creation of social housing.
Former Ontario MPP Tony Ruprecht moderated the session following a welcome by National Ethnic Press and Media Council of Canada President Thomas Saras. Media practitioners from mainstream and community outlets participated in the session.