Turkey's journalists say press freedom has declined under Erdogan's rule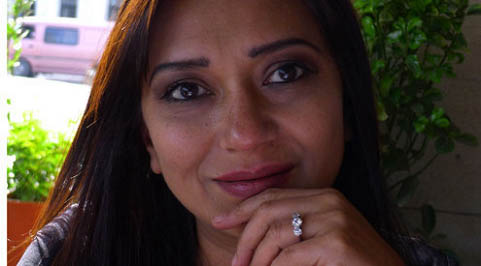 Amberin Zaman, fired after writing outspoken columns in a Turkish newspaper, is one of a dozen columnists dropped from their priviliged perches in the past year. | Roy Gutman/MCT
By Roy Gutman | McClatchy Newspapers
ISTANBUL — Veteran journalist Hasan Cemalwas forced out of his job in March for defending his newspaper's decision to publish secret protocols that embarrassed Turkey's ruling party.
Amberin Zaman lost hers in April following a succession of outspoken columns that criticized the government's Syria policy and its treatment of the large Kurdish minority.
After Nuray Mert criticized Turkey's Kurdish policies and voiced concern that Recep Tayyip Erdogan, the powerful prime minister, risked becoming an authoritarian leader, she was dismissed from her job as a television show host with NTV and then fired early last year by the newspaper Milliyet.
All were columnists in Turkish newspapers – royalty in this country's media realm – who enjoyed perks, prominence and a modicum of freedom to report the news and give their views, far more than ordinary journalists. They are among more than a dozen Turkish columnists who were fired or quit under pressure in the past year, according to the U.S.-based Committee to Protect Journalists.
Before they were forced out, Erdogan put pressure on their publications and attacked them by name or indirectly, raising a multitude of questions about whether Turkey has the advanced democracy it claims 10 years into Erdogan's prime ministership.
"If this is journalism, then down with your journalism," Erdogan declared in a speech about Milliyet, Cemal's newspaper, after it published the minutes of Kurdish politicians' talks with Abdullah Ocalan, the imprisoned leader of the Kurdistan Workers Party, or PKK, a group the government had previously demonized as terrorists but is now negotiating with.
Turkey, a nation of 80 million, has emerged as one of the most stable Muslim majority states, and its economy is the second fastest-growing in Europe. Three visits by Secretary of State John Kerry in his first three months in office confirm the country's growing role in regional affairs. On Thursday, President Barack Obama will receive Erdogan at the White House, where the topics are likely to be the civil war in Syria and what role Turkey can assume in Middle East peace talks.
Yet freedom of expression on contemporary issues lags woefully behind progress in other spheres, stymied by a government that regularly seeks to intimidate publishers, editors and reporters, as well as columnists. The Carnegie Endowment, a nonpartisan U.S.-based think tank, concluded early this year that press freedom in Turkey "is moving backward."
Media-government relations "have always been problematic in Turkey, because political power groups have always tried to control the media and the community of journalists," exerting pressure "through economic, political and legal instruments," Cemal wrote in his final column, which Milliyet refused to publish but which was distributed by the International Press Institute, a Vienna-based association of news executives that promotes free press issues. .
Cemal, a veteran with 45 years' experience, had consistently supported the present government, and his departure rocked the Turkish media world.
The enablers of this state of affairs include an ownership structure in which media are held by large conglomerates that often compete for government contracts, in a conflict of interests; a judicial system that has jailed more people claiming the label of journalists than any other country, according to several studies; and finally a general lack of solidarity among journalists.
In place of hard-hitting watchdog reporting, the result is self-censorship. Some journalists say 30 percent to 40 percent of their reports are never published.
"Flattery is the key thing in Turkish media," Mert told McClatchy. "It has never been as bad as it is now."
Major events go undiscussed. Is there a risk of blowback from allowing Islamist extremists to cross into Syria and join al Qaida-related fighters? "It's a huge story. It should be on the front page every day," Zaman told McClatchy. But it goes untouched.
Why Turkish government support for the Syrian rebels has failed to topple President Bashar Assad is another topic that is not addressed. "In Turkey, if you criticize the policy, they label you as pro-Assad," Zaman said.
And strangely for a country that aspires to be a regional leader, Turkish media barely covers the war in Syria, relying instead on international news agencies.
Are there any contracting scandals or government corruption in Turkey? You'd hardly know from reading the mainstream media.
And what's entailed in the deal between Turkey's national intelligence agency and Ocalan, a captive for 14 years, leading him to order the withdrawal of the PKK armed forces from Turkey? The topic is barely mentioned. Then there's the related subject that has many Turks' heads spinning: How can the PKK go from being a terrorist group to a trusted negotiating partner so quickly?
Some of the answers – or at least the questions – could have been provided by the likes of Mustafa Gokkilic, a specialist on Kurdish issues. He was one of few Turkish journalists to go to the scene in late summer 2012 when the PKK mounted a major operation in the mainly Kurdish town of Semdinli, near the Iraqi border. But in late March he was fired without explanation from his job as a reporter for Haberturk TV.
The Committee to Protect Journalists generated a storm of reaction last year when it said Turkey had jailed 61 journalists in direct connection with their work. The Turkish Justice Ministry disputed CPJ's tally, saying that some of those convicted had committed "grave crimes such as membership of an armed terror organization, kidnapping, possession of unlicensed weapons and dangerous substances, bombing and killing."
The Justice Ministry's claims underscored harsh laws that ascribe membership in a terrorist organization to anyone who writes an article promoting its goals.
A McClatchy analysis of the Committee to Protect Journalists' list and government indictments shows that 52 of the 61 indicted or imprisoned for their writing or reporting report for Kurdish news outlets, and most appear to have a connection with the PKK through an affiliated "popular front" organization, the Union of Communities in Kurdistan.
But many of the cases are paper thin, said Dunya Mijatovic, a Bosnian who is the representative for freedom of the media of the 57-nation Organization for Security and Cooperation in Europe. "There were cases of people simply reporting things connected with the PKK," she said.
The other nine cases involved charges growing out of Ergenekon, one of several mammoth cases alleging a military conspiracy to overthrow the elected civil government. But some of those cases appear to be completely baseless – such as the charge against reporter Ahmet Sik that two books he wrote exposing the conspiracy made him a part of it.
Sik and another leading investigative reporter, Nedim Sener, spent more than a year in detention. "There is nothing that connects me with Ergenekon. I see myself as an outsider," Sik told McClatchy in an interview. "It's not possible" to have been a part of the conspiracy, he said. "I would never be a friend of them, let alone enter into an alliance." But he expects a jail sentence in June.
There are signs of possible change, in the form of judicial reforms, the latest of which has just been signed into law and redefines terror, decriminalizing speech in support of a terror organization if it does not incite to violence.
But no one knows the implications for journalists in jail of what is known as the Fourth Judicial Reform, because the government has largely avoided discussing it. McClatchy made more than half a dozen attempts by phone and in writing to obtain a comment from the Ministry of Justice, without response.
Mijatovic of the Organization for Security and Cooperation in Europe said the newest reform could be a change for the better, but "only if it is implemented."
In recent weeks, the Turkish judiciary has released four Kurds from pretrial detention, according to Committee to Protect Journalists. All had been charged with membership of a terrorist group based on articles they wrote. The Turkish media have given the case minimal coverage.
But that still makes Turkey among the least hospitable nations for journalists in Europe, Mijatovic said.
"This is not only by far the highest number of journalists in prison among OSCE participating states; the sheer number of imprisoned journalists – either convicted or in pretrial detention – raises fundamental questions on the legislation governing media freedom in Turkey," she told McClatchy.
Perhaps the greatest irony of the latest crackdown, against columnists, is that they have long been one of the few sources of news on controversial topics in the largely docile media in which they appear. Columnists here also have enormous perks. Zaman said she earned "a fat salary" as a columnist, supplemented by well-paid television appearances, and Mert said she earned as much as $20,000 a month, 15 times the average reporter's salary.
"The whole system is corrupt," said Zaman, who has international credentials as the Turkey reporter for the Economist weekly and as a past special contributor to the Los Angeles Times and the Washington Post.
Columnists "take up all the room in newspapers, and very often, they're the ones chatting with ministers and officials. They double up as news reporters," Zaman told McClatchy. "They get so-called scoops from high-level sources and they don't check the facts." To maintain that access, she notes, the columnists write little that would anger their sources.
"I'm not saying we previously had such a great free press and a fantastic democracy, and lo and behold, these guys came along and it all fell apart," Zaman said. But today, she said, "there is only one power, and it is Recep Tayyip Erdogan."
Mert agreed. Previously, and particularly under coalition governments, "there were spaces for criticism." Today, "we have a very strong one-party government, a monopoly of power," she said.
Gareth Jenkins, a writer and analyst based in Turkey since 1989, said one reason for the weakness of the media was the lack of solidarity among journalists.
In Turkey, he said, if a journalist says something critical that the government doesn't like, "other journalists go after them." He paraphrased Pastor Martin Niemoller's famous summing up of the duck-for-cover mentality in Hitler's Germany. "People remained quiet when lunatic nationalists got banged up in prison. People kept quiet when those with whom they disagreed were under pressure. Now their turn has come."
Email: rgutman@mcclatchydc.com; Twitter: @roygutmanmc