The 2018 Awards of NEPMCC.
Friday night, the 9th of November, the National Ethnic Press and Media Council of Canada (NEPMCC) recognized members of the diverse communities of our great country.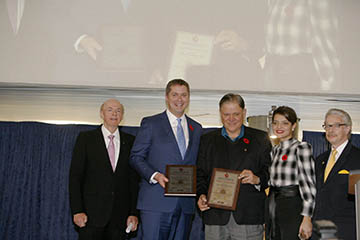 The 2018 Award Ceremony was held at the Toronto City Hall, in which dignitaries such as Leader of the Conservative Party of Canada Andrew Scheer, Mayor of the City of Toronto John Tory, Jim Karygiannis, Russian Consul General Kirill S. Mikhaylow and many others were in attendance.

Susana Donan our Publisher was recognized for her many years of excellent service to the community.

For one more time the National Ethnic Press and Media Council of Canada, celebrated the annual Awards night, recognizing 48 member publications, radio and television producers and directors and also 14 Artist and 14 Leaders of the various communities.

This was the 38 year the organization is celebrating the achievements of the ethnic communities of the Dominion of Canada.
The celebration was highlighted by the presence of the leader of the Official Opposition of the Federal Parliament and probably the next Prime Minister of the Country Andrew Scheer, the Mayor of Toronto His Worship John Tory, the members of the Canadian Senate, Senators Leo Housakos and Denise Batters, the members of Parliament Hon. Marco Mendicino and Hon. Gary Anandasangaree, Members of the provincial parliament Aris Babikian from the PC, Sara Singh  Deputy Leader of the Official Opposition of Ontario NDP, Councillor Jim Karygiannis and the Consuls General of Russia, Indonesia and the High commission of Cyprus.

Following the presentation of the Awards the Board of Directors of the National Ethnic Press and Media Council of Canada organized reception and dinner for the 500 individuals honored with their presence the event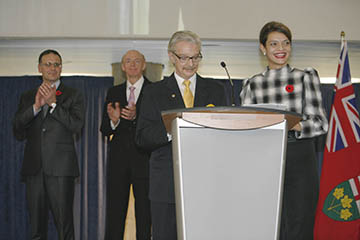 Entertainment was provided by Luba Chernyand and members of the school of Dancing Nancy Athan- Mylonas.
We should express our thanks to Nancy and all the children participated in the event for their perfect and harmonious performances of the Greek Dance. Thank you Nancy and thank you all the participants.
Thanks should go also the "Catering by Nikko's" and his staff which served the all the guests and made us proud for the Greek hospitality. The key organizer of this great and very successful celebration was Maria Saras-Voutsinas with the help of Daniela Spirlac and Dr. Phyllis Bilia, one of the most successful cardiologist Toronto and Enrique Castellvi.
Thank you Maria, one more success in the long list of your achievements and thank you Daniela, Dr. Billia and Ricky.
Thomas S. Saras
President and CEO